Burning Hell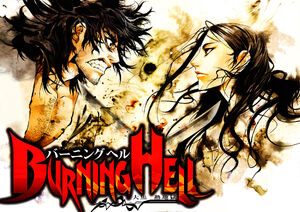 Information
Title:
Burning Hell (バーニングヘル)
Author:
YOUN In-Wan & YANG Kyung-Il
Original Run:
June 16, 2008 – July 7, 2008
Published by:
Big Comic Spirits (Shogakukan)
Volumes:
4 Chapters
Genre:
Action / Adventure / Drama / Historical / Seinen / Supernatural
Burning Hell (バーニングヘル, Bāningu Heru) is a Japanese manga series written by YOUN In-Wan and illustrated by YANG Kyung-Il.
Set in Japan and Korea during the Edo period, a time of great upheaval between the two cultural groups. In ancient times, Japan and Korea would send its criminals to a penal colony called "Kyokudo", situated in the channel between the two nations. There the cannibal Juu was sent for murdering over a thousand warriors while in Edo. Yet for an island meant for criminals, there was but one Korean medic, Han, exiled from Korea for killing and dissecting over a thousand people.
The manga was announced to be 112 pages, 4 chapter mini-series with starting from Issue 2008-29 of Big Comic Spirits and continuing until Issue 2008-32. At the final 4th chapter, it was announced that a 2nd Phase of the story, but until this day, there is no other information about the continuation.
In 2015, the 4 chapters were released in a book called Burning Hell Kami no Kuni, combining Burning Hell with another short story by the same authors called Kami no Kuni.
Manga Guide
Edit